The band without fear
The Daves were an experience; not a band. The lead singer, Bekka Eaton, provided not only vocals, but a complete theatric experience. Her theater and comedy background was not wasted. The Daves originally met (for the most part) in Chicago, and later migrated to Philadelphia. As it would be impossible to do a band justice without a sound bite, one cannot do The Daves justice without a combined audio and video display. In fact, one especially can't do them justice in a brief web page.

The Song Challenge
The band without fear? Certainly. Have you ever seen an improvisational group ask for topics from the audience, and then weave them into a performance? OK, have you ever seen a band do this? In a bit they referred to as "The Song Challenge" The Daves would often ask for both topics and music styles, and then weave them into a new song created right on stage. And one music style wasn't always sufficient for a band like The Daves. One time someone in the crowd yelled out "disco" and in order to prevent myself from being subjected to disco music I screamed out my suggestion: dervish! Bekka (or was it Jim?) then instructed the band to create a Disco Dervish. I think they should have patented that. Often the result of these song challenges later became the foundation for new songs which would appear regularly in later performances or on their occasional (and all too infrequent) recordings.
---
The Daves were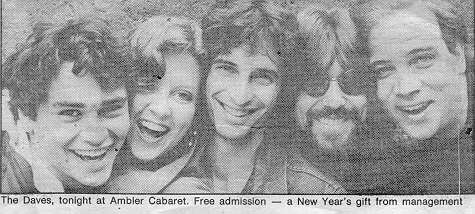 From left to right: Ronny, Bekka, Jerry, Mike, Jim. C
ourtesy of Bekka.
---
Video
There's precious little video of The Daves available. There are probably a few tapes hiding in boxes in people's attics. A friend recently pointed me to this one of Dynagroove and The Daves at the Chameleon in Lancaster; it's a very early video for both bands. One of the only "country" songs The Daves did (and I use that term loosely). Many of the Dynagroove members changed later. Both bands had dropped both of these songs from their "regular rotation" by the time I discovered them. Dynagroove is up first; The Daves come in at about 4:39.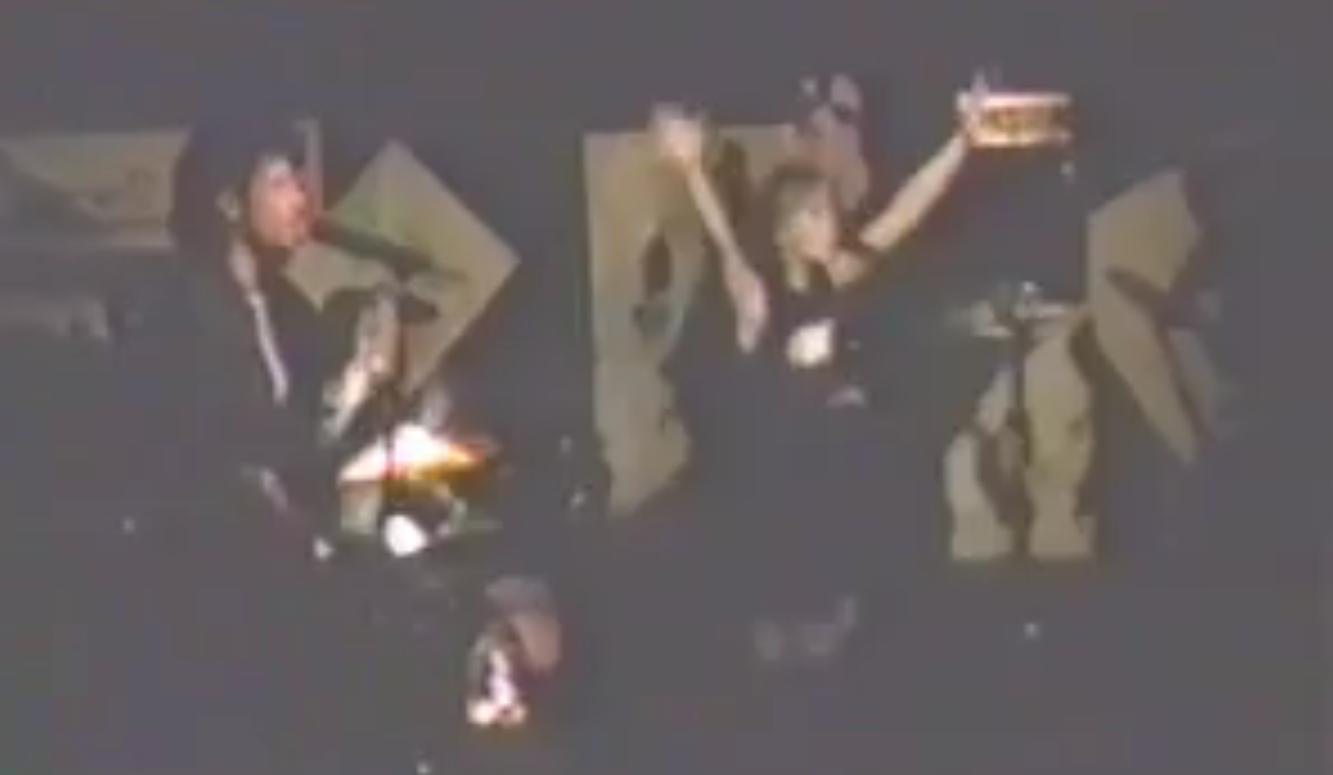 Some other videos, posted more recently:
The Lunatics Have Taken Over The Asylum
This isn't even a Daves song; it's a cover. But it was one of the reasons I originally became interested in The Daves. They would be offstage, the room lights not completely dark, and suddenly the crowd would be "shushing" itself quiet. When complete silence prevailed, the odd music would begin, and The Daves would begin appearing one or two at a time. From all different directions. Wearing all sorts of strange costumes. Roaming throughout the audience. Cavorting on top of tables and counters. Often singing without mics. Always singing with a strange crazed quality. Jerry often wore a skirt made from a vinyl tablecloth. Mike was resplendent in his Ernie Kovacs inspired jackets. Can you imagine Ronny playing the lenses of a gas mask with his drum sticks? While he was wearing it? And making it sound good? Or perhaps the entire band wearing pig masks. The very first time I saw this band, I knew I would come out to see them again. Later that night, after they did "Lunatics" I knew I would be at the next show, even if it was on a Thursday night. And I and my friend showed up the next Thursday at the North Star Bar. When it came time for encores, we were the two lunatics standing in the crowd bellowing "Lunatics! Lunatics!" And lo and behold, they did it.; And it was even better at the NSB than it had been at the previous show at the 23 East.
Lyrics
Love, Sweat, Passion
Katherine Was a Prophet
---
Band Members
I don't claim to be The Daves' collective biographer, so these notes are incomplete; my apologies to the band. Any additional information is welcome. Ronny has been kind enough to contribute already and the enthusiasm he expressed for my little web page is just as strong as that which he exudes on stage.


---
Rockin' Ronny Crawford - Drums & Percussion (including gas mask), Vocals
Ronny has toured and recorded with Jeffrey Gaines and has played with Philly bands June Rich and Cross-town Traffic. He was last seen as the drummer touring with Lisa Loeb with performances on David Letterman, Jay Leno and Saturday Night Live. Without question, Ronny is the only drummer who's solos interest me. Most drum solos remind me of someone who doesn't enjoy foot ball: they don't play football, and don't understand the interest other people have. Well, you don't need to be a drummer to enjoy Ronny's solos. Ronny can be found on Twitter and YouTube.


Ronny/Nine Stories and Lisa Loeb

---

Bekka Eaton - Lead vocals on most songs, Lyrics, Dancing, Theatrics, Trombone, Tambourine, all-around Daves Persona

Prior to The Daves, Bekka was with The Second City in Chicago, and also landed a part as the Female DJ for the school dance in the movie Sixteen Candles.Her shots then landed on the cutting room floor, but in the dance scene in the school gymnasium, off in the distance a blurry figure can be seen dancing in the DJ stand. The blur moves distinctly like Bekka often danced on stage with The Daves. Whichexplains why they had to list her in the credits, we presume.

Later, Bekka appeared in the TV movie, Day-O, according to her listing on IMDb. Bekka teaches theatre and performance, and has been doing solo performing and stage acting.

Learn more about Bekka on her very own Wikipedia page.



---

James D. (Jim) Ericson - Guitar, Vocals

Guitar player, foil and repair man, to name a few talents. Operator of DavesLabs. Who can forget the guitar solos such as the one in Love, Sweat, Passion? Jim and Mike were responsible for improvising the melodies to effect the convoluted hybrid song styles selected by Bekka and the audience during a song challenge, and it was always fun. Jim's writing news on the Internet these days, as editorial director of Information Management. He can be found on LinkedIn and Twitter.

---

Jerry Getz - Bass Guitar, Vocals

Although primarily on bass guitar, Jerry did lead vocals on a number of the earlier songs and covers. Jerry was one of The Daves with local Philadelphia connections. He can be found on LinkedIn and Google+.

---

Garry Lee

Garry, another Philadelphian, replaced Jerry Getz as bass player and was a member of The Daves from 1989-1992. More recently, he was a member of June Rich, which apparently disbanded in December of 1998. He is currently playing with Deb Callahan.

---

Michael (Mike) Mennies - Keyboards, Vocals, Electronic sound effects

Mike is also one of The Daves with local Philly roots. He was the intense Daves keyboard man with a broad range of styles. There's some Theloneous Monk in there I'm sure. And who can forget the fluorescent smoking jackets during the The lunatics have taken over the asylum covers?

Mike is now Director of International Production at Aeroplane Productions. He can also be found on LinkedIn and IMDb for his work on such blockbusters as

Species

and

Johnny Mnemonic

.

---

... and the home, of the, Daves

The

North Star Bar

at 27th and Poplar streets in Philadelphia was the home base for The Daves, since Ronny and Bekka lived in an apartment above this bar, restaurant, performance venue, art gallery. Their early shows were done with tables pushed aside in the main dining room, and later performances here were done on a real stage in the new addition carved out of the adjoining building. The Daves even helped design the new space, to some degree. At least Greg claimed to have spec'd the stage lighting, and Jim put in the great sound system from used parts.

Their weekly Thursday night performances in the new space were magical events. The space is smaller than some of the larger rooms they played and lends itself to intimate performances. Combine this with a band that "felt at home" there and a crowd of people that might not otherwise be out partying on a weekday but were drawn there and you have some great ingredients. The North Star staff, owners and food helped too.

And now, everyone hold their beer bottles up to the side of their heads, pressing the cold condensation against your hot sweaty temple, and sing in near unison:

Hail to thee O'North Star,
hail to thee our bar.
People come from miles around,
to eat and to get down.
Hail, hail Charlie,
hail, hail Pete.
Hail to thee O'North Star,
you truly are a bar.

Thanks to Jim Ericson for providing the lyrics.



---
Links
Thrift Store Music: Unknown Albums (And Tapes) Uncovered And Reviewed ; A collection of images of The Daves paraphernalia and other information.
Oct 24, 1986: "Philadelphia Is The Daves' Kind Of Town" - Chicago Tribune ; An article by Rick Kogan about The Daves' departure from Chicago
July 9, 1987: "Life Imitates Dave" - Philly.com ; A review from one of their shows at The North Star Bar
May 11, 1989: "Music Foundation Honors Philly's Best Artists In Several Categories Get Awards" - The Morning Call (Lehigh Valley); The Daves won Best Unsigned Band
May 4, 1990: "Philly's 'The Daves' No Ordinary Joes" - Savannah News-Press ; from the SavannahNow.com archives
Dec 21, 1990: "The Daves Call It Quits With Final Tour" - The News And Courier, Charleston, SCThe announcement of the end of The Daves
---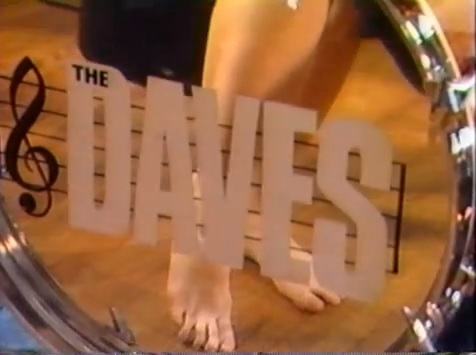 music
is
was fun
---